Chairman's message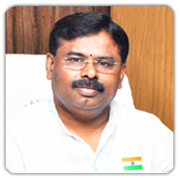 " You will not have a united India if you do not have a good All-India Service which has the independence to speak out its mind, which has a sense of security. The Constitution is meant to be worked by a ring of Service, which will keep the country intact "

--Sardar Vallabhai Patel
Education is an un-ending process and it should never stop with obtaining mere degrees and awards. True education should contribute to the inculcation of civic action and public service so that each individual would think of asking what he could do to his country rather than what a country could do to him.  Paavai Educational Institutions in general and Paavai IAS Academy in particular are established with this mission of providing quality education and professional training to all the aspirants who seek a platform for a lucrative job or seize great openings to serve the nation by occupying the prestigious position of Indian Civil services. Training of civil servants depends on the competency of the individuals as well as on the administrative needs of the society.
Good governance is what people are increasingly expecting. It requires the civil servants to be accountable and to make people feel that the raison d'être of the administration is to work for them. It also means establishing simpler and more convenient systems while dealing with the public. The effort should be seen in taking the government to the doorsteps of the people and in case of grievances, there should definitely be a fast track mechanism to address them. Therefore, one should be sincere not only in his/her work but also in influencing the rest to be sincere and committed.
In Paavai IAS Academy, I am sure, all learners with diverse qualifications from every state of our multi-lingual country would be given the most required opportunities in terms of esteemed faculty, excellent infrastructure, essential course materials and expert guidance to get into IAS and make it 'Indian Admirable Service'. It is said that the measure of a man is what he does with power. One is judged by what one does for the welfare of the people. Hence, in the process of nation building, the officers of administrative service should work without any bias or favour so that they would be emulated by others.
I am confident that all those who are going to be groomed in Paavai IAS Academy would never allow power and facilities which come with their posts to make them inaccessible to people.  Instead, they would prove themselves worthy of being impartial, transparent, honest and service minded.  In this way the public administrators can earn the gratitude and the good wishes of the millions of people who place so much hope and trust upon them. I wish the Academy, its faculty and learners all success in their endeavors.

My Best wishes.


Shri.CA.N.V.Natarajan,
Chairman, Paavai Institutions